The Institute is an elite school for the children of Gold Society members the Red Rising series by Pierce Brown. The House Mars Institute Ring features the wolf head symbol of House Mars. The members of House Mars are known for being fiercely aggressive players in the war game against other students. The design elements on the sides of the ring were inspired by shield emblems of Ancient Roman legion soldiers.
Details: The wolf head ring is solid sterling silver and measures 13.7 mm from top to bottom, 15 mm wide across the House Mars symbol, and 4 mm wide at the back of the band. The area behind the House Mars signet is partially carved out to reduce the weight. The ring weighs 14.1 grams, weight will vary with size. The inside of the band is stamped with our makers mark, copyright, and the metal content.
Size Options: The House Mars ring is available in US sizes 6 to 13 1/2 (13.5), in whole, half, and quarter sizes.
Finishing Options: Sterling Silver or Antiqued Sterling Silver.
Also available in gold - click here to view.
Packaging: This item comes in a jewelry box with a card of authenticity.
Production: We are a made-to-order company. Your order will ship in 5 to 10 business days if the item is not in stock.
FOR THE COMPLETE RED RISING JEWELRY LINE CLICK HERE.
---
"Red Rising", and the characters and places therein, are trademarks of Pierce Brown under license to Laka Jewelry.  All Rights Reserved.
Customer Reviews
05/24/2021
Marcos N.

United States
Hoping to get another one in Gold
It was Beautiful, absolutely stunning and the color has held up well against wear and tear.
02/17/2020
Kael F.

New Zealand
Great
Very happy with the ring
01/22/2020
Stephanie S.

United States
Love this ring with a few exceptions
This ring is so freaking cool! The design is incredible and it's great having a physical item from one of my favorite books. My only complaint is that it hasn't held up as well as I thought it would. I got this ring as a Christmas gift and after only a few weeks it's already showing quite a bit of wear. To the point that I'm wondering if the ring is more of a display/decorative item then something to wear. The black paint is starting to chip in places and it nicks/dings pretty easily. It adds character to the piece, which isn't too bad. But if you are wanting a robust ring that stays sparkly and pristine, and still wear it frequently, this may not be the ring for you.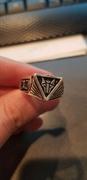 The ring is made of sterling silver which is susceptible to dings, scratches and daily wear. The amount of wear depends on the individual and how much they use their hands. All sterling silver rings will get small scratches and dings from normal wear. If you send the ring back we would be happy to replace the antiquing for free. It should not be flaking up. We can also buff out those scratches in two minutes. Many local jewelers will also polish rings for free or a very small fee. This would remove the dings you are viewing. Please let us know how we can help. We would like all our customers to be 100% satisfied with their purchase.